CUTTELL: the roots
CUTTELL Family Tree
Webtrees representation.
This CUTTELL Family Tree currently numbers 506 people and goes back to around 1619. It originated in Bolsover, Derbyshire. The data shown is based on a gedcom file dated 14 August 2023. This tree can also be seen on Ancestry, but you will need an account on ancestry to access it.
The Cuttells of Bolsover
My general approach to researching family history has been to follow just the four surnames of my grandparents, that is LOMAS, EDMONDSON, GOODALL and JOHNSON. A major exception has been the CUTTELL line, where my interest was through Alice Cuttell, my great-grandmother, who married Joseph Goodall in 1891.
Alice was born 2 March 1872 in Lane End, Tibshelf, Derbyshire, and baptised 31 March 1872 at Blackwell. She had 6 children, only 2 of whom reached adulthood, my grandfather Wilfred Goodall, and his sister Bertha. Alice died 2 March 1954 at 12a Newbold Rd, Chesterfield, her address at the time was given as 7 Main Rd, Morton, Chesterfield, and the person reporting the death was my grandfather Wilfred Goodall.
As a baby, I actually met Alice Cuttell, in the photograph below taken 27 June 1948 in Newton, Derbyshire, we can see Alice together with her husband Joseph, her son Wilfred and daughter-in-law Edith, her grandchildren Muriel, Esme and Derek (Goodall), with husbands Walter Lomas and Derek Lowe. Derek (Goodall) was not yet married to Joyce (m1951). There are also great-grandchildren John (me!) and Christina b1948, and Walter Lomas's parents Bessie (Edmondson) and Harry Lomas.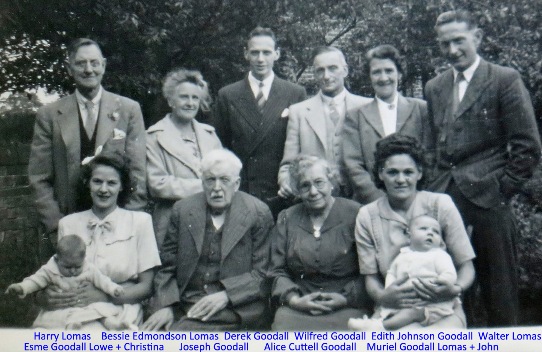 It is an incredible photograph covering 4 generations, starting from Joseph Goodall born in 1868, and including people still alive 150 years later in 2018.
My interest in the CUTTELLs was mainly by chance, as my father Walter Lomas had included quite a few CUTTELL names in his original research carried out in the 1980s, which had been based on information he had received from other researchers. As I started double-checking everything, I found that there were quite a few errors and non-justified suppositions. There were many "twisted roots", where cousins had married and descendants of brothers had then married into each other's families.
The situation was quite complex, and after some time investigating, I was contacted by Catherine Stewart, who was the undisputed reference person for the Cuttells, she had researched the name back to the Norman conquest. I was an upstart trying to sort out a lot of inconsistencies. We hit it off and freely exchanged information on what we were doing. Then, over a period of a couple of years, we built up an "agreed" version of what we both thought had really happened, taking into account, as she said, "the priest who had had too much communion wine", when names got mixed up in the records. She had developed an approach to assessing family names that I was unaware of and which I have since adopted.
We worked together on the Cuttell history until her untimely and sad death in 2015. We spent, for example, a large amount of time investigating the life of Thomas Cuttell, born in 1710, sorting our way through inexact and conflicting Parish Records and Bishops' Transcripts.
John Lomas
14 August 2023